Festive atmospheres in historic towns
December is definitely the most charming time of the year. Let us walk you through Slovenian historical towns, where unique architecture joins with festive lights to create true winter magic.
The Fairy Tale of Ptuj offers fun activities for children and an ice rink at the festively decorated town market. Take a walk among Christmas-themed stands and warm yourself with a cup of mulled wine or excellent local wines accompanied by local delicacies.
Fantazima in Koper
In Koper, the winter Fantazima shines again this year. To give you the magical feeling of December, the town will twinkle in the glow of Christmas lights. Santa's mailbox, a covered ice rink, and a themed amusement park for children will be accompanied by culinary treats. The weekends will feature live music and Sundays will offer a chance to take part in guided Christmas walks.
The main characters of this year's December fairy tale in Celje include a traditional Christmas fair, which transforms into a Treasure Trove of Gifts, ornate shops and stores, a fairy tale merry-go-round, and an ice rink. The Fairy Tale Land offers a chance to tour the town with magical fairies or ride in a carriage to welcome Santa.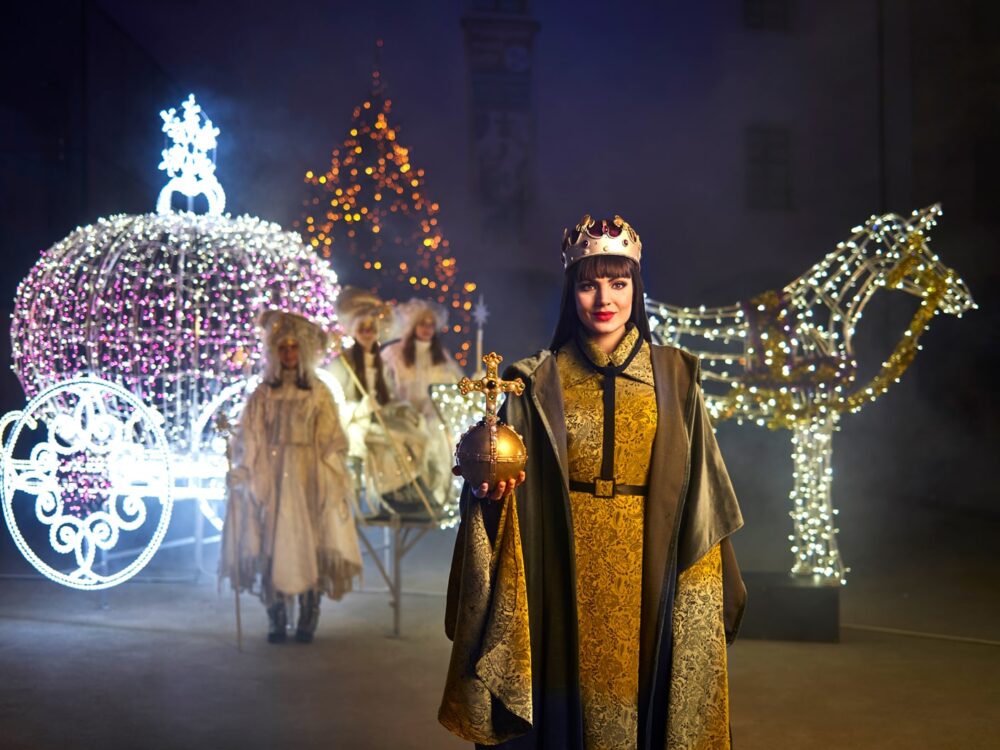 Green Radovljica
Radovljica features a variety of festive events. Admire the town's unique green decorations, woven willow branches, beautiful woven balls and chandeliers and experience a true fairy tale in the old town. Don't forget to try out Okusi Radol'ce trademark street food.
Kranj is also known as the cultural capital of the Slovenian Alps, as the greatest Slovenian poet, France Prešeren, lived there for many years. The lines from his poems light up the streets of the old town center. While admiring the beautiful lights, you can stop at little wooden stalls at the Christmas market or visit one the shops. For an unforgettable Christmas photo, you can sit in Santa's chair.  More information is right here.
Festive path through Tržič 
This year, the festive path through the old town of Tržič takes you to the newly renovated Neuhaus mansion. On Mondays, be sure to participate in the guided experience "The Unforgettable Christmas of Jakob Aljaž", dedicated to the translation of the world's most played Christmas song: Holy Night. Also worth visiting is the Tekec Nativity Scene.
Fairy tale in a gallery
Christmas time in Kostanjevica na Krki, the only populated river island in Slovenia, is even more special because of the fairy tale meetings in one of Slovenia's biggest galleries, Galerija Božidar Jakac.
The magical Christmas atmosphere – Christmas fairs, shows and workshops for children, diverse music events, outdoor New Year's celebrations – can also be experienced in other historical towns: Brežice, Črnomelj, Idrija, Jesenice, Kamnik, Metlika, Novo mesto, Piran, Ravne na Koroškem, Slovenj Gradec, Slovenske Konjice, Šentjur, Škofja Loka and Žužemberk.
Here are some further ideas for making the most of December in Slovenia.
© Slovenian Historical Towns
1/
Magic moments in Ravne na Koroškem
2/
Christmas season in Slovenske Konjice
Things to consider before traveling
Some tips to consider while traveling