European Contemporary Architecture
With the Bauhaus masters in the 1920s, Europe ushered in a new world of modernist architecture that changed the way cities look all over the world. For the first time, young architects prioritized form and flow, cleanness and function over the gilded, and at times garish, facades of buildings built in centuries past. This movement inspired generations of architects, industrial designers, watch makers, and furniture makers, men and women who built some of the world's most iconic and recognizable buildings that stand in cities in Europe and elsewhere. Just like the modernists such as Mies van der Rohe, Le Corbusier, and Walter Gropius changed the look, feel, and philosophy of architecture in the 20th century, a more contemporary generation of European architects is once again changing how buildings of all sorts are being designed and built. For people who are creatively curious about this movement, the best way to discover it is to visit European cities from as far east as Warsaw, home to the building that houses the POLIN Museum of the History of Polish Jews, to as far west as Lisbon, where you will discover the architectural feat that is the Museum of Art, Architecture, and Technology. Keep reading for some tips on which cities host some of Europe's most important architectural marvels!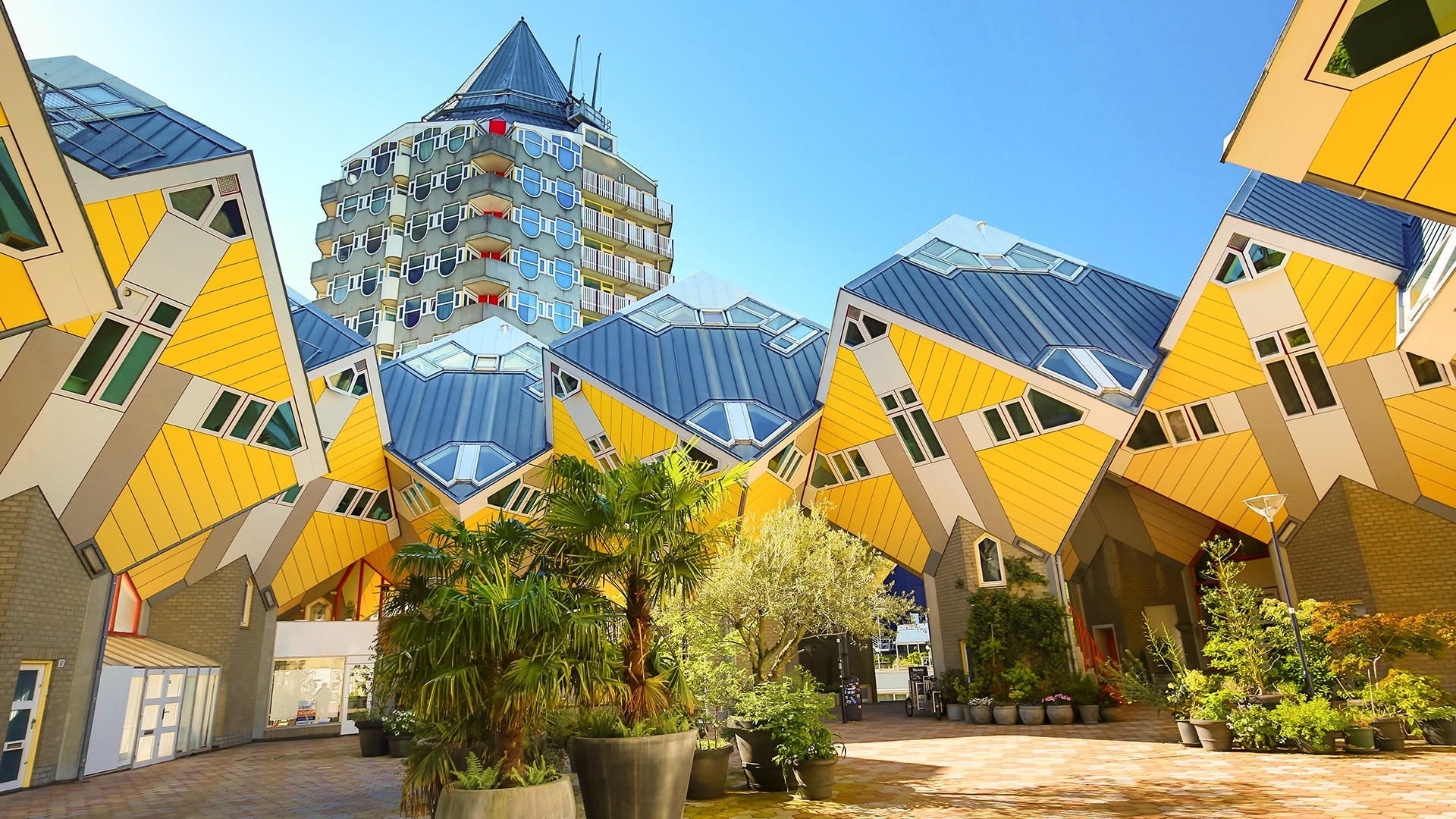 An excellent first destination would be the Netherlands, a country which has produced many great architects, and over the last three or four decades, has seen experiments in structuralism, neorationalism, postmodernism, and neomodernism. Rotterdam is home to many of these interesting architectural destinations, including its famous cube apartments near the center of the city, the remarkable and gleaming central train station, and its curved market hall, which boasts apartments and an incredible inner space filled with some of the world's most interesting culinary delights. Make use of the Rotterdam's extensive bike paths to see its cities in an effective and fun way. The Netherlands also has an excellent train system, which means getting to different cities to explore architecture is fast, efficient, and sustainable. A great option is Eindhoven, a less visited Dutch city that holds several important buildings, such as the People's Pavilion.
Next, travel the relatively short distance to the Netherlands's neighbor, Germany, home to fascinating cities if you are keen on contemporary architectural destinations. Drawing upon the country's long and diverse history of design —including the Bauhaus movement mentioned above— architects building in Hamburg have created some structures that are truly worth seeing in person. A good place to start is the Dockland Office Building, which stretches out over the water in a beautiful triangular shape. Then, visit the Elbberg Campus, completed in 2005 as an innovative combination of office space, apartments, and a public terrace. Finally, check out the Cinnamon Tower, one of the most known and visible buildings in the city. A tip here—ask yourself, what are the design cues you can spot among the Bauhaus architects that you recognize in contemporary design? How are they similar, where do they differ?
Once you have had your fill of Hamburg, we recommend taking the short flight to the city of Valencia, Spain a city where rich, historic architecture meets exceptional contemporary buildings. An excellent first architectural destination is the City of Arts and Sciences, a large complex meant for culture and art and one of the most important institutions in the city. The construction of the main building began in 1996, and just two years later, it was inaugurated. One of the key features of the City of Arts and Sciences is that development did not end with the initial building. In fact, over the years that followed, the complex grew and now includes a series of different structures each of which is worth a visit. Once you have seen them all, Valencia has another must see structure: the Veles e Vents or the America's Cup Building. Inaugurated in 2006, it has won numerous architectural awards.
With some suggestions in hand for architectural exploration in some of Europe's most interesting cities, all that remains is for you to make the jump and visit Europe. Come to this continent to see these buildings and monuments for yourself. We promise you they will remain in your mind as memories for a lifetime.