Visit Tartu — Estonia's sustainable second city
Tartu is Estonia's second-largest city, yet it's home to many of the country's most important "firsts": the first university, the first song festival, and now the first city in Estonia to take part in the European Commission's 100 Climate-Neutral and Smart Cities initiative.
Tartu is also considered the heart of Estonian culture, and in 2024 it will become Europe's Capital of Culture as well, featuring the theme "The Art of Survival." The program has sustainability at its core. Considering that Tartu dates back to 1030 — making it the oldest city in the Baltic states — you could say the city is an expert on survival, and its focus on sustainability has made that possible.
A two-hour train ride connects Tartu with the capital, making it an easy addition to any Estonian itinerary. Blending collegiate energy, history, and innovation, Tartu has much to offer the green-minded tourist.
Convenient and efficient public transportation
In 2019, Tartu implemented a popular bike-sharing program called Smart Bike Share. Since its launch, users have taken over 2.5 million trips and biked a total of more than 6.6 million kilometers. If the weather isn't great for biking, then you can catch a bus, which also happens to be a green option thanks to the use of locally produced biofuel. Because of the city's compact size and efficient public transit system, you can get to most major sites of interest in 15 minutes.
Sustainable shopping in a lively hipster hub
Tartu's Aparaaditehas (Widget Factory in English) is an example of how offices, cafes, shops, and living spaces can come together and breathe life into abandoned places. The area hosts a number of stores focused on environmentally friendly products. For example, Mari Upcycle Studio makes backpacks from discarded upholstery material and iLLIMOR produces clothing from sustainably sourced or deadstock fabrics. Nearby, a former boot factory is home to TYPA, a printing and paper arts center. Their stationery line features notebooks made from old book covers and 100% recycled paper.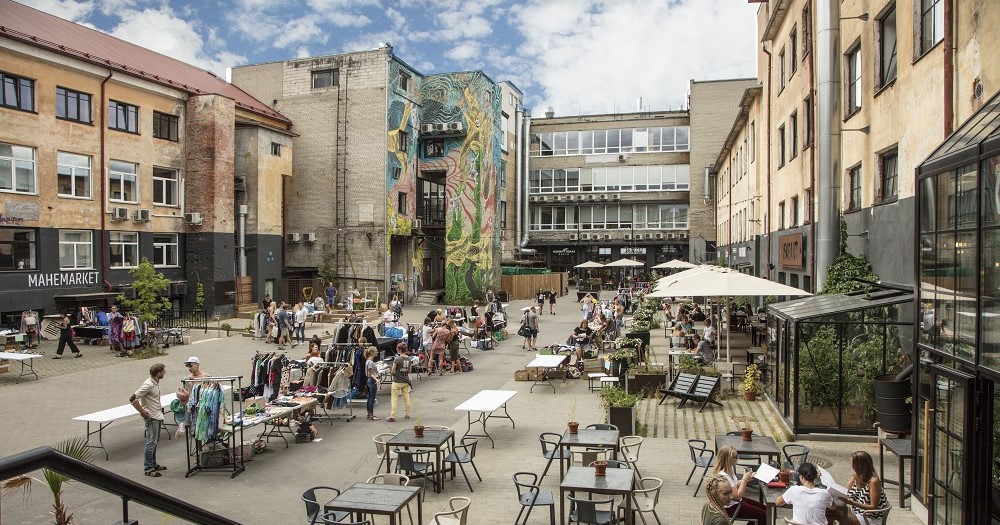 From khrushchyovka to smartovka
Take a SmartEnCity tour for an overview of the past 100 years in Tartu's urban planning. Check out vibrant street murals and see how outdated panel houses built in the 1960s — khrushchyovka houses  — are being given new life as energy-efficient smartovka  — smart houses.
Nurturing nature inside the city limits
Tartu's most famous green spaces — Toome Hill Park and the Tartu University botanical garden — both date back hundreds of years, demonstrating just how long Tartu has valued urban nature. The Emajõgi River runs right through Tartu, making it easy to explore the great outdoors on forested walking paths without ever leaving town.
As part of its Capital of Culture 2024 plan, Tartu aims to revitalize the city's parks, boost urban biodiversity, and create an environment where plants, small animals, insects, and people can all co-exist.