Experience German folklore in every season
Germany celebrates historically significant folk festivals throughout the year. Experience them yourself and celebrate our traditions with us!
The fifth season
In late winter, the Germans celebrate carnival, also called the fifth season. The carnival season traditionally runs from November 11 to mid-February when the fun ends on Ash Wednesday. During the season, people sing, dance and sway in bars, gymnasiums and on the streets —all in disguise. What should you shout when you celebrate carnival? Almost everywhere, you're usually all right with Alaaf or Helau.
The celebrations are particularly extensive in North Rhine-Westphalia and Rhineland-Palatinate. Festivals like this are said to have been celebrated in ancient times. We know for sure that the first Shrove Monday parade took place in Cologne in 1823.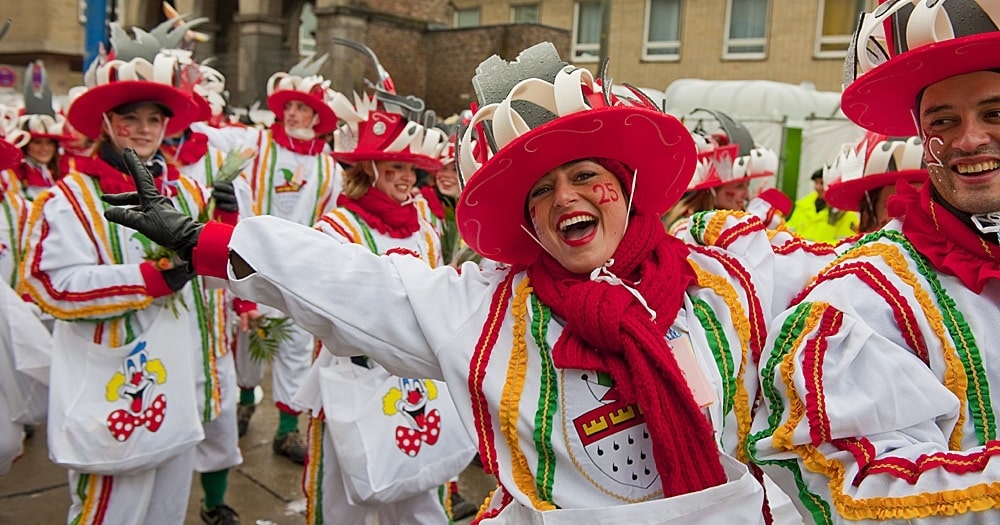 Easter traditions
Easter heralds the arrival of spring: birch and cherry branches are decorated with Easter decorations: nests with chocolate eggs and small gifts are hidden among the garden plants on Easter Sunday. Children love this celebration. They paint eggs in bright colors and await the Easter Bunny, who is expected to hide candy for them on Easter Sunday. In northern Germany, huge Easter bonfires are lit in a centuries-old tradition.
Time for beer and German delicacies
Beer gardens are everywhere in Germany. As soon as it gets warm in summer, young and old flock to the rustic open-air pubs to enjoy a cool beer and hearty snacks, often with a large circle of friends. Traditionally, Germans like to ride their bicycles from one beer garden to the next. It is undisputed that this joyful tradition is cultivated particularly extensively and stylishly in the southern German state of Bavaria.
The world's largest folk festival, the Munich Oktoberfest, has a long history. At the end of September, guests from all over the world arrive in the Bavarian capital to enjoy Munich's hospitality over a Maß of beer and Weißwurst (Bavarian veal sausage).
Typically, visitors dress in traditional costumes from the 19th century; women often wear colorful dirndls and men are attired in lederhosen, leather pants.
Celebration of wine
Along with Baden, Rheingau and Franconia, the Palatinate is one of Germany's top wine regions. Autumn is the time of the grape harvest and is often celebrated with festivals. At the center of the German Wine Route and the Palatinate is the small, romantic town of Neustadt an der Weinstraße. Here, every year on the first two weekends of October, the grape harvest festival is celebrated with delicious wine specialties and Palatinate delicacies.  The w.i.n.e.FESTival coincides with the wine fair, the crowning of the wine queen, the wine harvest parade and tastings of exhibited wines.