Creative workshops for paper and wood
Estonia has one of the lowest population densities in Europe. Over 50% of the country is covered in forests. Wild, untouched nature is essential to the Estonian identity. It's no surprise that many Estonian handicrafts feature components sourced from the forest and take inspiration directly from the natural world.
Traditional Estonian homes, boats, and saunas use wood, especially from the abundant birch and pine trees. The smoke sauna tradition of Võromaa listed on UNESCO's list of Intangible Cultural Heritage burns wood to heat the stones; sauna whisks are made from birch, oak, and linden branches. You can even see an example of medieval woodworking on display at the Maritime Museum in Tallinn. A spectacular wooden trading vessel, known as a cog, is a centerpiece of the museum's permanent exhibition.
While making a medieval sailing vessel may be too much of an undertaking for a visit to Estonia, you can turn wood into a boat, a basket, or a book during your trip.
Reviving the ancient art of dugout canoes
The wetlands of Soomaa National Park in South Estonia are famous for their extra season — the "fifth" season. Winter snows thaw, flooding the forest as the frozen ground keeps the water from soaking back into the land. In the past, locals relied on dugout canoes for transportation during this magical season. Most dugout canoes have been replaced with cheaper modern boats and canoes, but you can still learn about this tradition firsthand at Saarisoo Farm. There, a master woodworker — and one of the few craftspeople skilled in this ancient art — will show you how to carve a canoe from a single felled tree. Afterwards, you'll get to enjoy a boat ride on the Navesti River.
Go foraging with a handmade basket
Avinurme Wooden Handicrafts Center is located in East Estonia, not too far from the shores of Lake Peipsi. Visitors can purchase handmade goods made by master craftspeople, learn how to make their own wooden handicrafts, and enjoy a homemade meal at their cozy cafe. While you're there, learn how to make a woven chipwood basket. If your visit to Estonia coincides with the berry- or mushroom-picking season, you can take it to the forest and forage for a snack.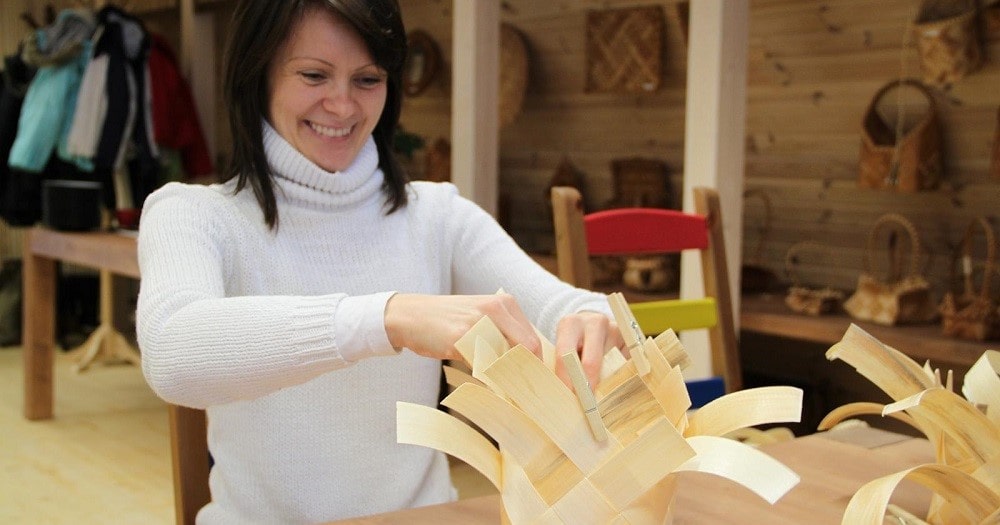 Turn recycled cardboard into a brand-new notebook
With the number of trees around, it makes sense that Estonia has a modern factory dedicated to renewing and refreshing the craft of papermaking. TYPA in Tartu is a printing factory and museum that does just that. Not only can you view their antique printing presses, but you can also use one to design your own handmade notebook from recycled cardboard.
Woodworking in Estonia is a sustainable craft. Taking a workshop while you're here means you can take a piece of the Estonian forests back home with you while leaving plenty behind for the next visitor.