Sport and spa escapes in Luxembourg
Luxembourg's lush landscape is a must-see for nature lovers who like exploring by foot or bike. Less well-known? Its plentiful spas, which offer a fitting reward after a strenuous day. 
Luxembourg's high, exposed north is best suited to experienced cyclists and hikers who aren't afraid of hills. Cycle paths PC16 to PC23 are clearly signposted routes in this sparsely populated region; a wide selection of other self-guided cycling trails and hikes is graded by difficulty. 
Visitors arriving from Luxembourg City can reach larger towns by rail or bus, but if you have time, consider an overnight stay at one of the high-quality spa hotels in the region. If planning to cycle or walk between accommodation, we recommend "movewecarry," a service that ferries luggage between hotels so visitors can walk or ride unencumbered. 
Château d'Urspelt has built a formidable reputation on a combination of a historic castle setting, excellent cuisine, and a Nuxe Spa. The latter features two private saunas, two hammams, a whirlpool, a flotation spa, a salt wall, and more. Located close to the second leg of the dramatic Escapardenne Eislek trail through the Luxembourg-Belgian Ardennes, it's a welcome stopover for anyone considering the five-stage hike.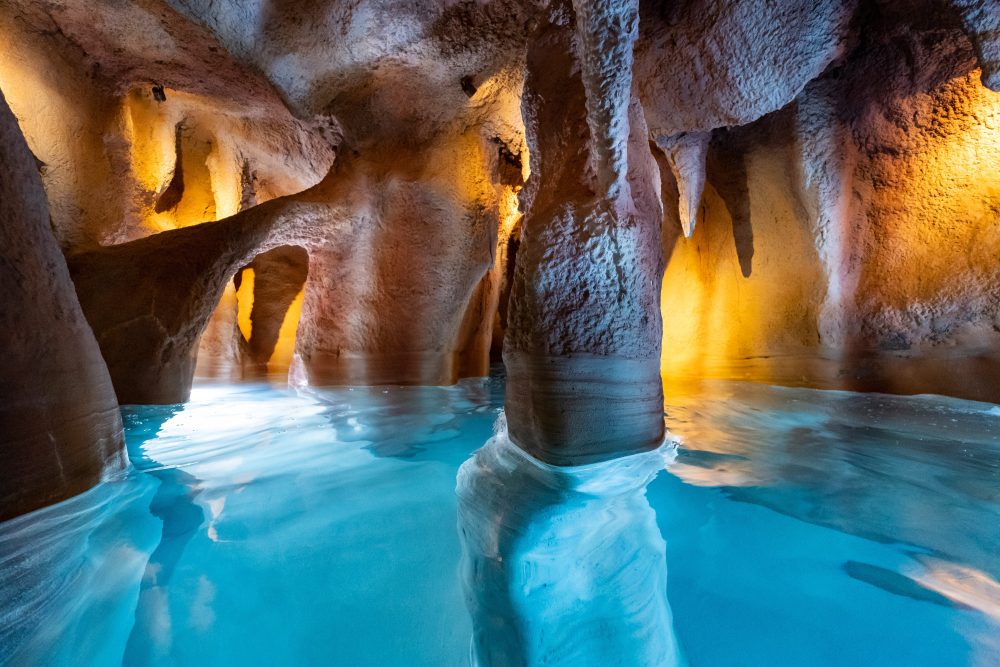 Melt away those sore muscles 
Adrenaline junkies favor the four-star Sport Hotel Leweck in Lipperscheid. Be sure to visit its hilltop wine-tasting room for breathtaking views of Bourscheid Castle. If you can take only one walk, consider joining the 14.5-kilometer BS6 Bourscheid trail south of Lipperscheid and stop at the medieval castle, which is open to visitors. For cyclists, the hotel is on the second leg of cycle path PC16, between Ettelbruck and Kautenbach. Be warned, the 35-kilometer route has an elevation change of almost 1,200 meters. You can count on the hotel's indoor and outdoor pools, saunas, and private treatments to melt away your sore muscles. 
If visiting Clervaux, one of the largest towns in the north, we recommend a stop at Le Clervaux, a boutique design hotel whose spa boasts an indoor pool with jets, infrared cabins, sauna, hammam, salt cave, and fitness spaces. Visitors can end the day here after working up a sweat on the CL5, a four-hour, medium-level circuit trail.  
Day trippers can also visit Redange-sur-Attert's leisure center, the Reidener Schwamm, for swimming, saunas, and classes at entry-level budgets. Another restful getaway from the city,  D'Coque wellness center, has excellent spa facilities, a fitness area, and massages. 
In southeast Luxembourg, Mondorf Domaine Thermal has over 150 years' experience in restoring people's health. The complex opened shortly after a spring was discovered in 1841. Since then, millions of people have bathed in Mondorf's waters and relaxed in the many saunas, hammam, and other facilities. Buses run regularly to Mondorf-les-Bains. After a few hours at the spa, stroll in the stunning 42-hectare park and dine at one of the Domaine's four restaurants to end the day with a fantastic meal – wellness for all the senses!