Two brothers anchored their trip to the continent with distilling, ski-making, and mosaics
Anyone who knows me knows I love to make things with my hands. At home, I knead dough into crusty loaves of bread. All the shelves in my apartment were built and installed by me. Last year, I even laid my own brick terrace where I now sit, writing this article and drinking a cup of coffee made from beans I roasted myself.
When the pandemic subsided and travel once again became possible, my brother Jim and I got to talking about doing a trip together. We had long wanted to visit Europe and travel the continent as siblings, recounting our days of youth and thinking of how we wanted our lives to grow. No surprise to anyone, however, I chimed in with a proposal: why don't we structure our trip around smaller European cities where we can make things ourselves. I made the pitch, one night over beers. "Let's explore Europe through learning experiences," I said. "We would learn skills tied to the traditions of each place and have a great time doing it!" Jim thought about my proposal for a moment, and then with great enthusiasm in his voice, said, "Yes, let's do it. That sounds great."
We began our trip in Eindhoven, a Dutch city in the south, which is totally void of the tourist hordes of Amsterdam and thus, far more enjoyable. Along its leafy boulevards are restaurants with delicious food, interesting bars, and lots of small shops with regional products. There's also a thriving tech industry, which is why some call the city the Silicon Valley of Europe. Enough with the digressions, though there are many to share about this lovely place! What drew us there was something special—distilling workshops where we could learn to make the delicious, if powerful, traditional Dutch liquor called Jenever. Dating back to at least the 13th century, this drink which tastes of herbs and juniper berries, has long been on my list to try. More compelling, though, was the chance to make it myself (you already know about my passion for trying things). The distilling workshop was everything Jim and I dreamed of. We stirred the juniper berries, smelled their fragrance, and watched as they flavored the alcohol in large copper vats. As the steam rose from the machinery, we could smell familiar odors: herbs, liquor, and just the hint of pepper, believe it or not. I was perhaps most excited about bringing a few bottles of our homemade brew to our friends for a summer cocktail, tied completely to the Netherlands's history and modern cities.
With our hands still smelling of juniper, Jim and I made the short trip south to Switzerland. Rather than flying, we decided a train would be more fun and more sustainable. We highly recommend the experience. Not only is it better for the environment, but what I loved most was being able to watch the gorgeous landscapes change as we headed south. What made me really advocate for a visit here was the ski-making classes. Jim and I grew up in a cold country, so skiing is something we love. Yet we had never heard of making skis from scratch. Both of us had some woodworking knowledge so it seemed a perfect thing to do. Over two days, we learned how to balance skis, make them into the perfect shape, and ensure they are not too heavy or too light. We started from the bottom up, choosing the wood first and then beginning the shaping. We also used various layers of wood to create the base platform of each ski, which we left overnight to strengthen. Finally, we rounded out the edges and decorated them. Before leaving, we gave them a try. Though they were a little less flexible than the fiber glass we're used to, it was a remarkable feeling to slide down the slope on something we made ourselves—a true dream for the do-it-yourself sort of guy I am.
After two places with cold weather, Jim and I were keen to make the final stop on our journey: Ravenna, Italy. This creative city might be best known for its history of mosaic making, and perhaps even more interesting, a new group of young artists using techniques that date back to the years before the common era. Mosaics have always fascinated me. The way they use tiny pieces of colored stone, glass, or ceramic to make a complex and beautiful picture has long struck me as being beguilingly beautiful. Eager to dive into this tradition, Jim and I signed up for a mosaic course taught by a young artist called Guido who had been studying this ancient artform and using it for his own modern creations. He welcomed us into his studio, a luminous place with gorgeous and surprising mosaic works everywhere. Over the next three days, Guido taught us how to assemble our compositions with the bits of colored ceramic and then how to use plaster to glue them together into an image. I chose to depict a landscape I remembered from childhood, and Jim created a remarkable beach scene. For me, doing such a tactile form of art that blended history and contemporary culture made for an unforgettable experience.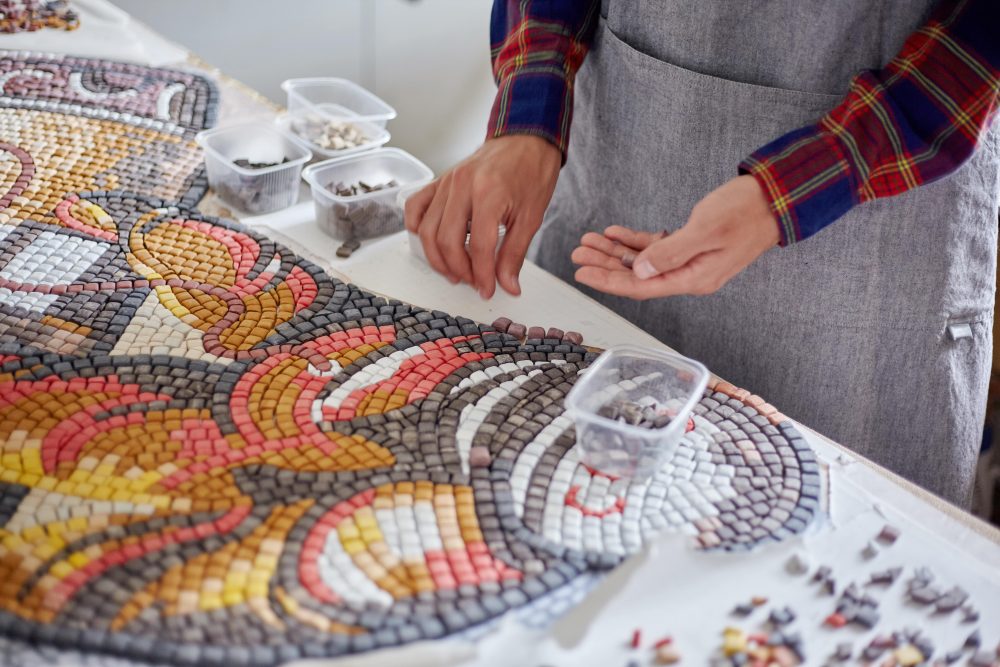 Now, back in Vancouver, Jim and I still revel in our European adventure—sometimes over a cocktail with our own jenever. My skis are hanging on my living room wall and the landscape mosaic is now in my daughter's room. I hope that whenever she sees it, she understands the power of travel and learning about other cultures.
Mark (and Jim) Novak, Vancouver, Canada