Tallinn to host Youth Song and Dance Festival
It has been said that Estonians sang themselves a nation, and in 1991, they sang themselves free. This summer, tourists can see what music means to Estonians by attending the 2023 Youth Song and Dance Celebration.
Sing a song of freedom
Choral singing has a long history in Estonia, dating back to the Baltic Germans, who often used polyphonic choral singing during church services. By 1865, the first Estonian-language singing group was founded, and others followed. By singing in Estonian, these choirs helped create a national identity separate from that of the Baltic Germans and, later on, from the Russians.
The first-ever Estonian Song Festival was held in Tartu in 1869. As part of the National Awakening that led to the first independence, all songs were in Estonian. The eighth song festival and the first to be held in an independent Estonia was in 1923 at the purpose-built Song Festival Grounds in Tallinn. During the second independence movement, groups gathered spontaneously to sing in protest.
Now, one hundred years later, this tradition has survived and flourished. Even during Soviet occupation, when the Soviet government tried to adapt this great gathering of voices to their own goals, Estonians came together to keep the character of their country alive through song.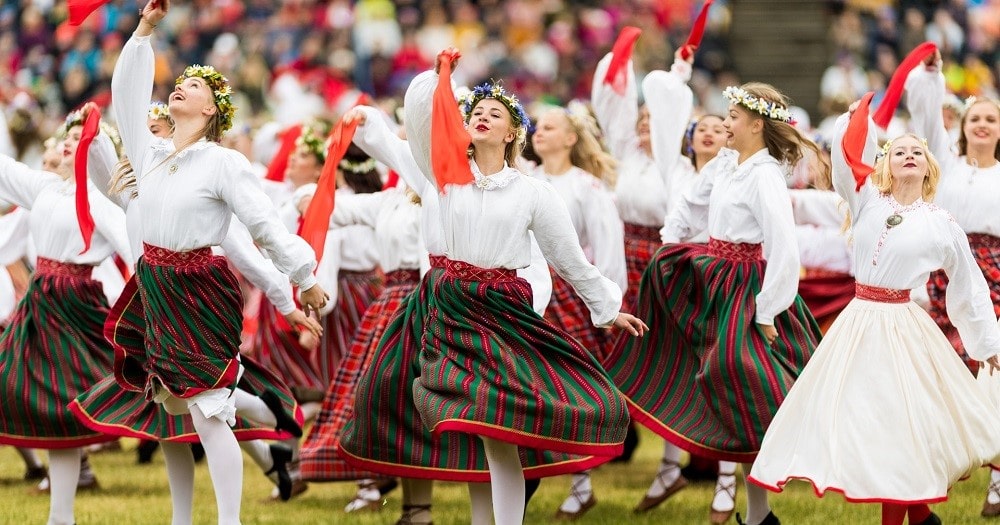 A modern celebration of the nation
The 2019 Song Festival had 44 times more participants than the first event held in Tartu. To accommodate the growing number of participants, younger participants can sing and dance at the Youth Song and Dance Festival, which is being held for the 13th time this year.
There will also be a folk music celebration this year at Freedom Square on July 1. Juhan Uppin, the general director of the Folk Music Celebration, says, "'We want to show the widest possible audience that our folk music is real and alive." The program is titled Really, as a nod to the authentic nature of folk music.
The Youth Song and Dance Festival will also have a five-kilometer procession through Tallinn. Nearly ten thousand dancers and thirty thousand singers will participate. Make your plans as far in advance as possible, as tickets sell out quickly and accommodations book up months in advance.
What to do if you can't make it to the Festival
Even if you don't make it to Estonia for the Festival, you can still visit the Tartu Song Festival Museum. While in Tartu, visit the Estonian National Museum to learn more about the history and traditions that define Estonia as a nation.