Where to feel the Swiss Christmas spirit
Walk through the city, marvel at the Christmas lights and festive decorations, listen to musical sounds, and enjoy the magical atmosphere while sipping mulled wine. Swiss cities are beautiful all year round, but thanks to the lights and decorations, they look extra magical around Christmas time.
Festive Montreux (Montreux Noël) offers a significant number of activities in conjunction with the traditional Christmas Market, from Lake Geneva's shores to the surrounding mountains. The Christmas Market delights around 420,000 visitors over a month's time and offers a warm and hospitable welcome.
Bern offers traditional Christmas markets, creative winter pop-ups, fairy-tale ice palaces and much more. The Christmas period can be experienced in an extraordinary way in Switzerland's capital. One of the highlights is the ice-skating rink in front of the imposing backdrop of the Swiss Parliament building, open as of December 15th, 2022.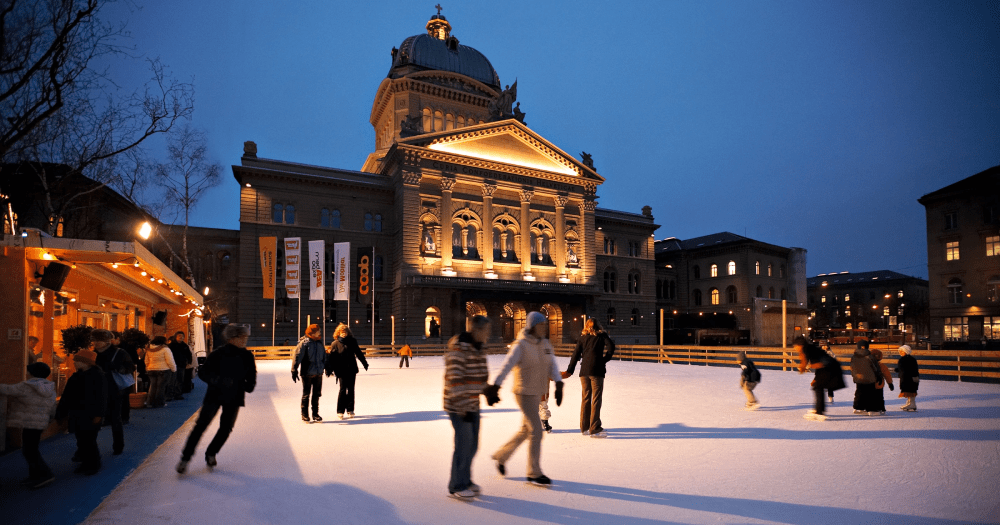 Christmas markets, Advent concerts, and Christmas shows: Zurich is simply enchanting at Christmastime. The whole city is bathed in warm light, there's a scent of cinnamon and mulled wine in the air, and Christmas melodies are audible everywhere. Sunday opening and night shopping provide the opportunity to splash out on gifts. On top of that, Zurich's hoteliers know how to throw fantastic parties on New Year's Eve.
Stroll through the historic Old Town past lovingly decorated houses and festively adorned shop windows. We promise you'll be charmed by the care Basel puts into celebrating the Christmas season. The Basel Christmas Market is considered one of the most beautiful in Europe. It was chosen "Best Christmas Market 2021" in online voting on the travel website "European Best Destinations".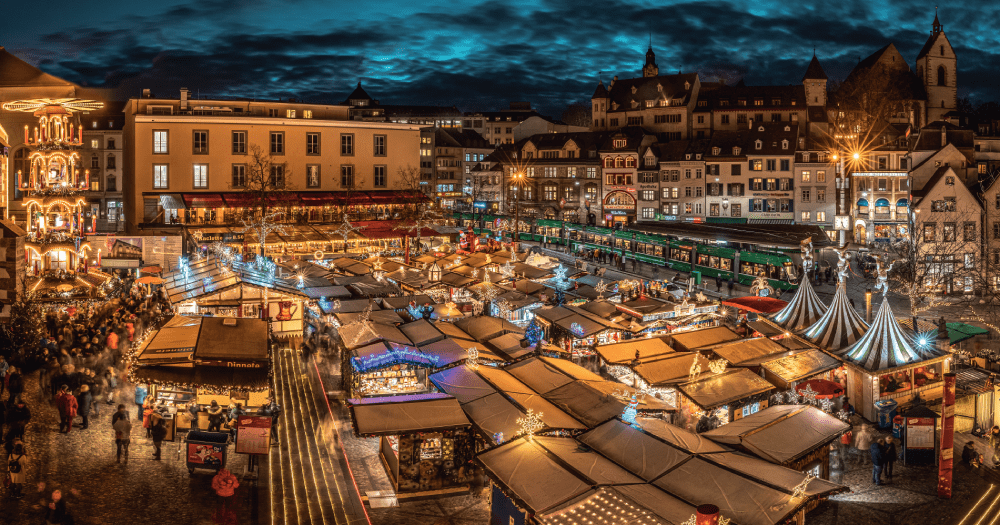 The unique festive lights in the city center and the three Christmas villages give the whole of Baden a magical feeling during the Christmas season. Throughout advent, this unique display of 10,200 LED lights and angelic figures casts a cheery glow over the city center. The lights change from street to street, enchanting Christmas shoppers as they browse in the stores.
Above the squares and streets of St. Gallen's old town, 700 stars sparkle and bathe the historic facades of the UNESCO World Heritage site in seasonably festive splendor. When the lights are switched on in St. Gallen, it's not only the children's eyes that sparkle. Every year, a huge, beautifully decorated Christmas tree is erected right in front of the magnificent Baroque towers of the cathedral.
If this hasn't been a sufficient inspiration to spend Christmastime in Switzerland, check out the overview of all our Christmas Markets here.