I visited Normandy to see the beaches where my grandfather fought during WWII.
Throughout my childhood, my grandfather told me about the Second World War. At first, I only heard snippets of information—a mention here, a reference there. Perhaps he thought I was too young to hear about such violent history. As I reached my teens, however, that changed. On Sunday evenings, when my whole family went to grandpa's for dinner, he would often take me aside and tell me about the war. Sometimes, he brought out a picture or showed me his dog tags. He even once showed me a knife he brought back to America from the battlefields of France. Out of all of his stories, I was most intrigued by his memories of the invasion of France on D-Day. I would look at him as an innocent adolescent and say, "Grandpa, weren't you scared? How did you possibly pluck up the courage to hop off your landing craft and storm the beach?" He'd always respond with something to this effect, "I was terrified. But I knew it was the right thing to do."
During one of our last conversations, grandpa told me, "if you ever get the chance, go visit Omaha beach." He died a few months later. Ever since then, I've longed to travel from my home in Ohio to France to see the place where he fought. Finally, seven years later, I got my chance. Together with my wife, I landed in Paris in the spring (you know—April in Paris). But instead of exploring the city of light (we'd do that later), I gave my best bonjour to the border guard, and then we got on a TGV train right at the Charles de Gaulle Airport and started off for Caen, in the department of Calvados.
In Caen, we rented a car then headed toward Omaha Beach. We drove through the little stone villages and past apple orchards. The landscape was stunning. Except all I could think of was my grandfather and all the brave troops from many different countries who fought and died on this very land.
We didn't reach our accommodations in Bayeux until past nightfall. It made little sense to go to the beach if we couldn't see anything, so we decided to leave our belongings at the boutique inn (part of the wonderful Gîtes de France network), ask for a recommendation for dinner, and go replenish ourselves before what I was sure would be an emotional morning trip. Our hostess had an excellent suggestion for our meal, a restaurant housed in a 15th century building. There we feasted on seafood: briny oysters, sweet shrimp, delicate lobster. My wife was even courageous enough to try tripe, which she said was far tastier than she had imagined. During dinner, I pulled out some old photos of my grandfather from the war. I had one of him in 1943, dressed in his uniform, waiting to be deployed. Another showed him roughhousing with infantrymen at an army base somewhere. I even had his dog tags with me. Why did I want to revisit these items before going to Omaha Beach? To try to understand as best I could who he was at the time of the invasion, what he looked like, what he had to endure. Before heading back to our inn, we ate several delicious cheeses. The camembert really made an impression on me! We also tried Calvados, an apple brandy from Normandy.
Bright and early the next morning, my wife and I got in our rental car and made the short drive (about 20 minutes) from Bayeux to Omaha Beach. A strong wind blew as we got out. And then, I finally saw it—the huge beach where my grandfather fought. I immediately wanted to go down to the sand, to feel it, to touch it. Near the water, I bent down and scooped some up in my hands. It was cold, wet, grayish black. As I held it, all I could think about was my grandfather who, seventy-five years earlier, had stormed this very beach. What struck me the most was that the beach seemed the same as what I had seen in pictures from 1944. It was almost as though I might walk a bit further and find my grandfather's boot prints. The experience was extremely cathartic. It was emotional. Here lay a battlefield, one that shaped so many lives. Not only that, it shaped the European continent. My wife and I observed a moment of silence to mark the occasion.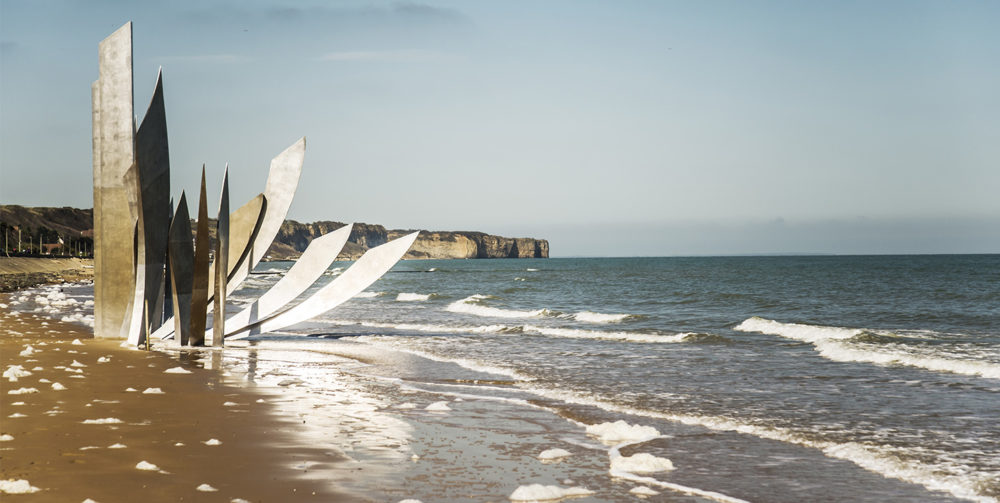 Some practical advice if you want to make a similar trip: renting a car is essential. Public transport in these small villages is limited. Save time by driving yourself, though be careful to observe the parking rules! I also encourage you to check out the Gîtes de France network, especially if you want accommodation that's an experience, not just a roof over your head. These inns often offer meals sourced from local farms, for example, or experiences (like tours of vineyards) that are not easily accessible to the general public.
So now you have my story about returning to Omaha Beach all these decades after the war. Whether or not you had a grandfather who fought during D-Day, visiting these beaches of Normandy is an experience that will live with you for years, if not forever. This coming summer would be the perfect time to do such a trip.