Recharge your batteries in Swiss thermal spas
Switzerland is one of the best places in the world to relax and unwind during your vacation. One of the most calming activities you can enjoy here is visiting a thermal spa. Switzerland has numerous thermal baths; find which one will best allow you to unwind with perfect ease. For centuries, thermal spas have been known for their mineral-rich, healing waters, exceptional for boosting the immune system and renewing skin, hair, and overall well-being. 
Thermal baths are usually located in scenic locations across the country, making Switzerland a perfect destination for relaxation, sightseeing, skiing, and other fun activities. Here are some of Switzerland's best thermal spas and their perks. 
If you're after a spa experience in the heart of Baden, right on the banks of the Limmat river, Switzerland's newest thermal bath is for you. Designed by Mario Botta, the Fortyseven wellness spa is the centerpiece of Baden's spas and continues the town's rich Roman bath tradition, which dates back more than 2,000 years. Over 18 springs supply the spa's warming waters, considered the most mineral-rich in Switzerland. 
Leukerbad-Therme is one of the most family-friendly resorts in Switzerland. It offers ten thermal baths ranging in temperature from 28ºC–43ºC. The resort has other fun features, such as whirlpool baths, a cold-water pool, and a Japanese-style hot bath. Leukerbad Therme uses water from its private springs, which produce over 3.9 million liters of hot and mineral-rich water daily.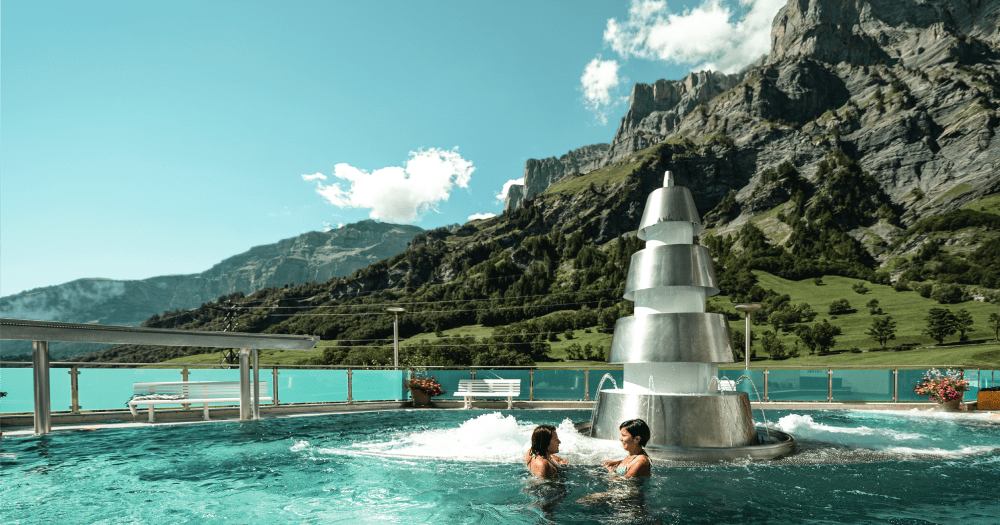 Located on beautiful Mt. Rigi above Lake Lucerne, the Mineralbad & Spa is the ideal location for anyone who loves a view of the Swiss Alps. This resort has indoor and outdoor pools, whirlpools, steam baths, massage jets, and an optional–nudity area only for adults. Mineralbad partners with Hotel Rigi Kaltbad, so you can book packages that include bathing in the spring water and staying overnight.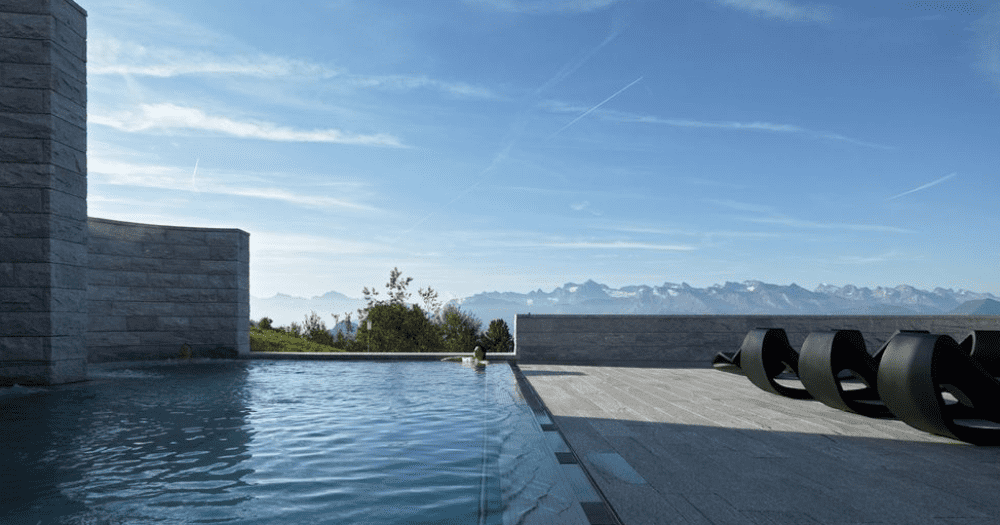 The 7132 Therme in Vals, with its extraordinary architecture, is one of those places that you will want to revisit again and again. Layered stone upon stone and magnificently illuminated, the Therme was built in harmony with the mountain and surrounding landscape. In addition to indoor and outdoor pools, the spa includes steam baths, a cold and fire bath, a blossom bath, and drinking stones. The natural mineral waters' temperatures range between 30-36ºC. 
There are more than twenty mineral springs in and around Scuol. Ten of these are currently in use and supply both Scuol's drinking cures and carbonated mineral baths as well as the Engadine Bad Scuol. The extensive sauna scenery has six indoor and two outdoor pools, two steam baths, a brine pool, three different saunas, relaxation rooms, and sunbathing lawns. There's also a walkway with a shower grotto, spring waters, a refreshment corner, and foot baths.