Back to the roots of Slovenia's cultural heritage
Slovenia is a treasure trove of exciting cultural traditions. A great way to experience them is by attending traditional festivals, which offer insights into what remains from life as it once was. Here are Slovenia's top 7 distinctly ethnological festivals.
1. Kurentovanje shrovetide celebration, Ptuj
Kurents are the most recognisable Slovenian Carnival characters. According to folklore, they chase winter away by jumping and making noise. You can see them in Ptuj and the surrounding area. The Kurents' door-to-door rounds between Candlemas and Ash Wednesday are inscribed on the UNESCO List of Intangible Cultural Heritage of Humanity. To meet a Kurent up close, attend a traditional Kurentovanje celebration in Ptuj.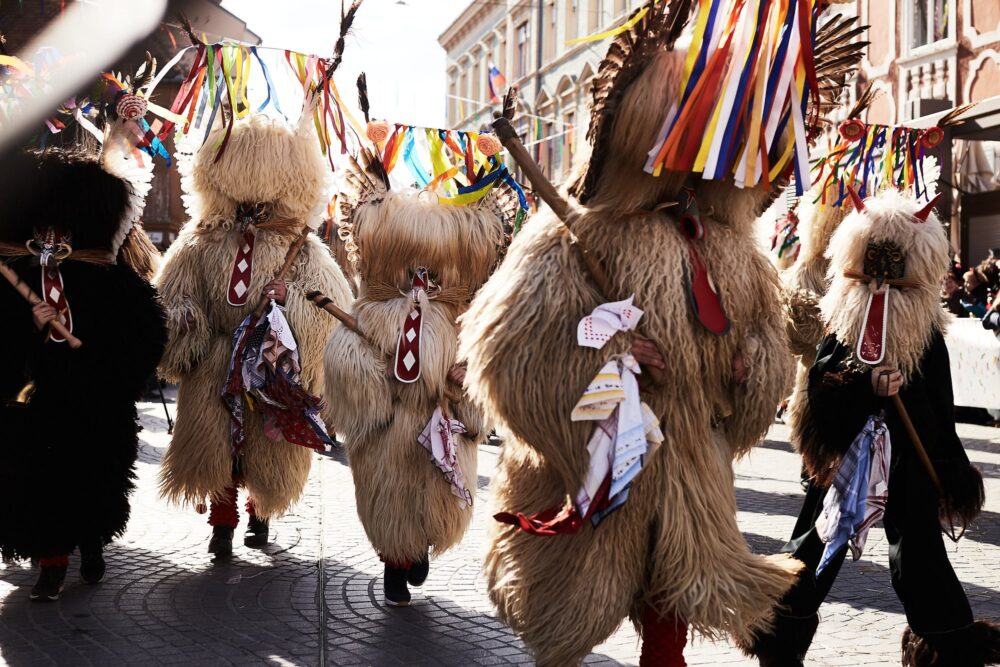 2. Days of National Costumes and Clothing Heritage, Kamnik
During the second weekend in September the streets of the historic town of Kamnik fill with colorful national costumes from all parts of Slovenia and Europe. This is the largest ethnological festival in the country, and according to The Guardian is one of the 20 greatest traditional festivals in Europe.
3. Jurjevanje, Bela Krajina
Jurjevanje is the oldest folklore festival in Slovenia and a member of the International Council of Organizations of Folklore Festivals and Folk Arts (CIOFF). Throughout its history, the festival has played a vital role in preserving the cultural heritage of Bela krajina, its dances, songs and music, while inviting other internationally acclaimed folklore groups and other culture creators from across the world to present their own heritage.
4. Lace Festival, Idrija
Idrija lace festival is a unique opportunity to learn about traditional lace making in the historical town where it has been produced since 1696. The festival features lace masterpieces and opportunities for hands-on experiences. Slovenia's traditional bobbin lacemaking is also on UNESCO's Intangible Cultural Heritage list.
5. Passion Play, Škofja Loka
The oldest Slovenian play has been re-enacted on the streets of the medieval town center of Škofja Loka since its origin in baroque times. Rich costumes and scenery and the ensemble of over 900 local actors attract many visitors to Škofja Loka for these performances, which take place every six years. Škofja Loka Passion Play is on UNESCO's List of the Intangible Cultural Heritage of Humanity as well.
6. Prešeren's Fair, Kranj
France Prešeren was Slovenia's greatest poet. Slovenian Culture Day is observed on February 8, the anniversary of his death. Travel back to the 19th century in the old town of Kranj and imagine how people lived in his times.
7. Cow's Ball, Bohinj
The Alpine meadows of Bohinj have provided excellent summer pasturage for livestock for ages. This is what gives Bohinj cheeses their characteristic flavor. In autumn, when the herdsmen bring the livestock to the valley, the traditional Cow's Ball is held, where you can experience a number of customs related to Bohinj's herding tradition.