The ideal destination for young travelers!
Cyprus, with its friendly, safe character, offers a variety of activities for all visitors, especially for young ones. All areas of the island offer something unique; whether it is on the coast or in the mountains, the island is a hub of history as well as a place with modern facilities, able to satisfy all needs.
In Nicosia, the capital, and a must-see, young travelers can explore small coffee shops, museums for all kinds, hidden treasures, and impressive architecture. Nicosia offers young visitors a relaxing atmosphere together with a cosmopolitan air.
Limassol, the island's second-largest city, is both a beach resort and a city with charming restaurants, interesting sites, and activities for the young such as waterparks, ice skating, and indoor or outdoor playgrounds. Of great importance is Limassol castle, where according to legend, the English king Richard the Lionheart married Berengaria of Navarra and crowned her as his queen. The city is also known for its lively carnival celebrations, the annual Wine Festival, and the traditional hospitality of its citizens.
Pafos is listed as a UNESCO World Heritage Site and includes numerous archaeological sites, from the center of the modern town down to its picturesque harbor and all along the coast. It is out of the seas of Pafos that Aphrodite, the Greek Olympian goddess of love and beauty, is said to have risen. The Pafos region is with a stunning coastline.
Larnaka is a jewel by the sea, a city with a long history and where St. Lazarus, the resurrected friend of Jesus, became bishop. The Larnaka district has many interesting places to visit and not only in the summer. In the winter, thousands of greater flamingos make their annual stopover at nearby Salt Lake.
In the Famagusta area on the eastern coast of Cyprus, golden sandy beaches abound. The popular holiday resorts of Agia Napa and Paralimni-Protaras are a true paradise for lovers of the sea, watersports, and nightlife. The sea caves along the coastline of Agia Napa and all the way around Cape Greko National Park are very popular for snorkeling, fishing, and even cliff diving for the brave.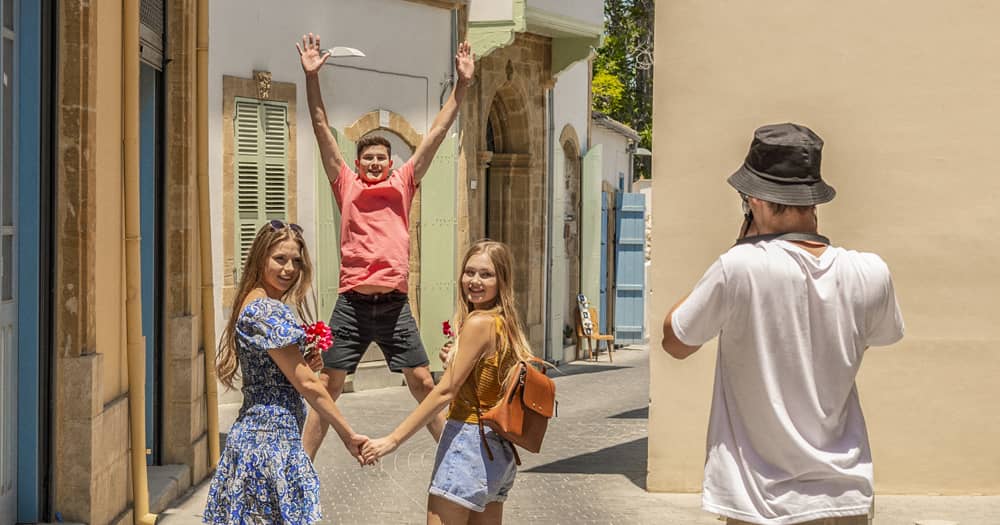 The imposing Troodos Mountain range lifts its highest peak to 1951m above sea level. This tranquil region provides a cool refuge for long walks in the summer in idyllic pine forests. Ten Byzantine churches located on Troodos Mountain are listed as UNESCO World Heritage Sites. During winter, Troodos offers an opportunity for skiing and other winter sports. Young travelers can visit the Troodos area and participate in workshops offered by local artists along the Heartland of Legends Route.
Cyprus is the island of legend and stories. Almost every single place — village, mountain, river, rock, tree, or monument — has its magical story about mythical creatures or legends about brave men, soldiers, and beautiful queens. The Cypriot heartland is full of legends, stories, hospitable people, and traditions for young travelers to explore!