Destinations for a Romantic Getaway
When people think of a classically romantic honeymoon, most people think of Paris. And with good reason, Paris, France is the city of love, after all. Beyond Paris though, there are many other options for wonderfully romantic getaway in Europe.
If you're a stickler for tradition, Paris is the way to go. You hardly even need to make plans, the city's inherent romance surrounds you at all times. While away the hours sipping wine in one of the innumerable cafes, or stroll through some of the best museums in the world. If you're looking for something extra special, try a riverboat cruise on the Seine, or walk the grand gardens at the palace of Versailles (just outside Paris).
Go live life in the lap of luxury with a trip down to the French Riviera and Monaco. Monte Carlo is home to some truly extravagant hotels right on the Mediterranean, many with excellent spa facilities on site. A massage and couples spa day could be just the thing you need to unwind after the big day.
There are few places in the world like Prague in the Czech Republic for a storybook honeymoon. Go back in time and walk the streets of Old Town, where some of the buildings date back some 500 years. Or go on a romantic adventure to explore Prague Castle, where the city began and some of the oldest and grandest buildings can be found. Like St. Vitus Cathedral, a massive roman catholic cathedral over 600 years old, where crowds will gather every hour on the hour to hear the bell tower ring.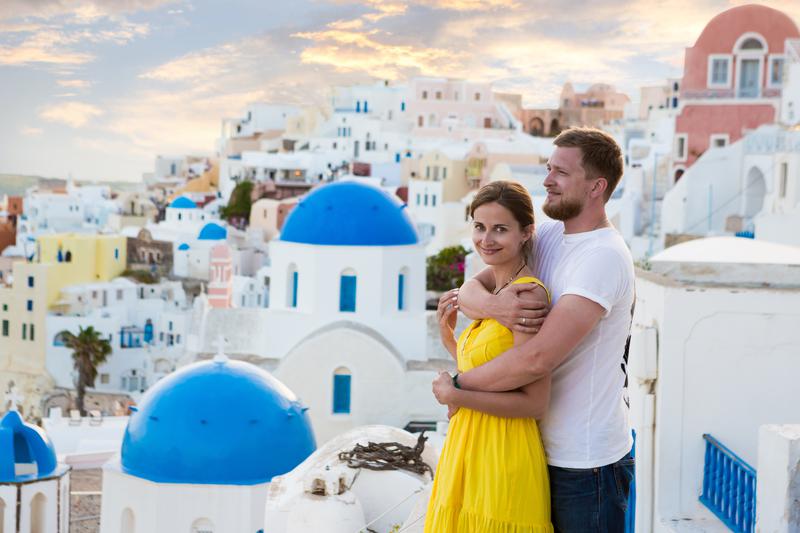 The Greek isles are perfect if you're looking to get away from all the stresses of a wedding and just spend some time together. Go southeast of the Greek mainland and you'll find the island of Santorini. It is often ranked among the world's top islands for its quaint villages and incredible cliff-side views of the Aegean Sea. Take a hike up to Skaros Rock near the village of Imerovigli for one of the best sunsets of your entire life (or sunrises, if you're so inclined.) While you could spend all of your time on Santorini, it would almost be a waste to go to Greece for a honeymoon and not visit any of the other islands. Mykonos and Corfu are also top destinations for lovers, but any of the islands in the Aegean or Ionian Sea are sure to make for an unforgettable time.
Experience a distinctly old-world romance with a trip to Cyprus, an island that's been inhabited by humans for some 12,000 years. Beautiful medieval castles and Roman villas dot the coast, as well as modern spas and sun-drenched beaches. Swim to the spot where Aphrodite, the Greek goddess of love, is said to have risen from the sea foam, or see the grotto where she seduced her human lover, Adonis.
To get a truly Mediterranean romantic getaway, make some time for Malta. A small island country just south of Sicily, Malta is right in the heart of the sea. This makes it perfect for spending some quality time on a secluded beach or secret cove, or chartering a yacht and taking your romance out on the sea. Malta is also home to many historic and cultural sites you can visit during the day.
Slovenia might not be on your radar for a romantic getaway, but it's quite a hidden gem. The town of Bled is nestled in the Julian Alps, which overlooks the picturesque Lake Bled and the surrounding forest. In the middle of the lake is a tiny island you can visit with a 17th century church and other historic buildings. Looming over it all is Bled Castle, a medieval castle built on a cliff face that makes for some gorgeous views.
If you or your betrothed are Shakespeare fans or just hopeless romantics, you might consider honeymooning in fair Verona. Three of his plays were set in the city, most notably Romeo and Juliet, and with good reason too; Verona, Italy   is about as beautiful a city as you will ever find, and it is sure to spark romance even if you weren't already on your honeymoon. You can even visit Juliet's house and reenact the famous balcony scene. While the authenticity of the house as Juliet may be suspect (Juliet is most likely entirely fictional), it is still a fun romantic outing in a beautiful city.