Ready for an unforgettable summer?
We have selected new, must-see sites of historical importance as well as exciting outdoor and gastronomy experiences in Denmark for travelers either young — or young at heart.
Visit an impressive UNESCO World Heritage site
Did you know that just an hour South of Copenhagen, you can visit a unique UNESCO World Heritage site? The giant chalk cliffs called Stevns Klint are over 65 million years old. You can actually see layers of fish clay in the cliffs dating back to important historical events, from the extinction of dinosaurs to nuclear threats during the Cold War. Take a walk along the Stevns Trampesti hiking path and enjoy the beautiful scenery surrounding the cliffs. In late 2022, a brand-new visitor center will open where you can learn more about this amazing UNESCO World Heritage site.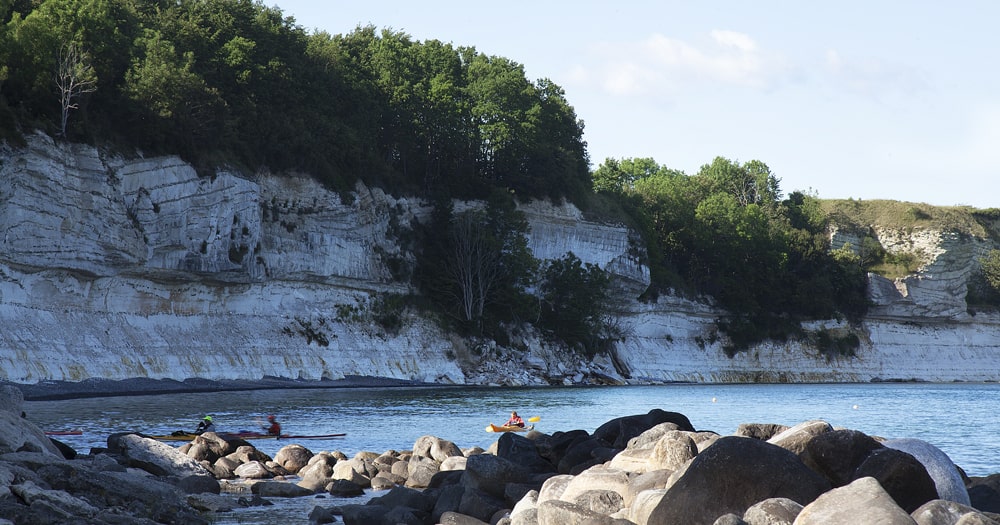 Learn more about the history of refugees in Denmark
In summer 2022, the brand-new Danish Refugee Museum, FLUGT, opened its doors in West Jutland. It invites you to dive into the interesting and intriguing stories of both former and recent refugees in Denmark. The museum is housed at the old Danish military Oksbøl Camp, which housed German refugees at the end of World War II. The building itself was used as a military hospital back then and was redesigned by famous Danish architects Bjarke Ingels Group (BIG).
Try surfing at one of our best surf spots
Feeling adventurous this summer? Head to Klitmøller — also known as "Cold Hawaii" — and try surfing at one of Europe's best surf spots. On the Danish West Coast, you'll find over 30 different surf spots, which makes it a great destination for both professional surfers and beginners alike. In Klitmøller you can meet a dedicated local surfer community — it will almost feel like being in Hawaii! Don't forget to visit Thy National park close by, a real natural gem worth a visit while you're in the area.
Have a beer at a local Danish microbrewery
If you feel thirsty after all your exploring, say cheers the Danish way and pay a visit to one of many microbreweries in Denmark. You might already know that we Danes love beer and Denmark is one of the leading beer-producing countries. Besides the big, well-known ones, there are over 100 smaller, local breweries worth checking out. Enjoy your cold beer with food— they're literally made for each other!